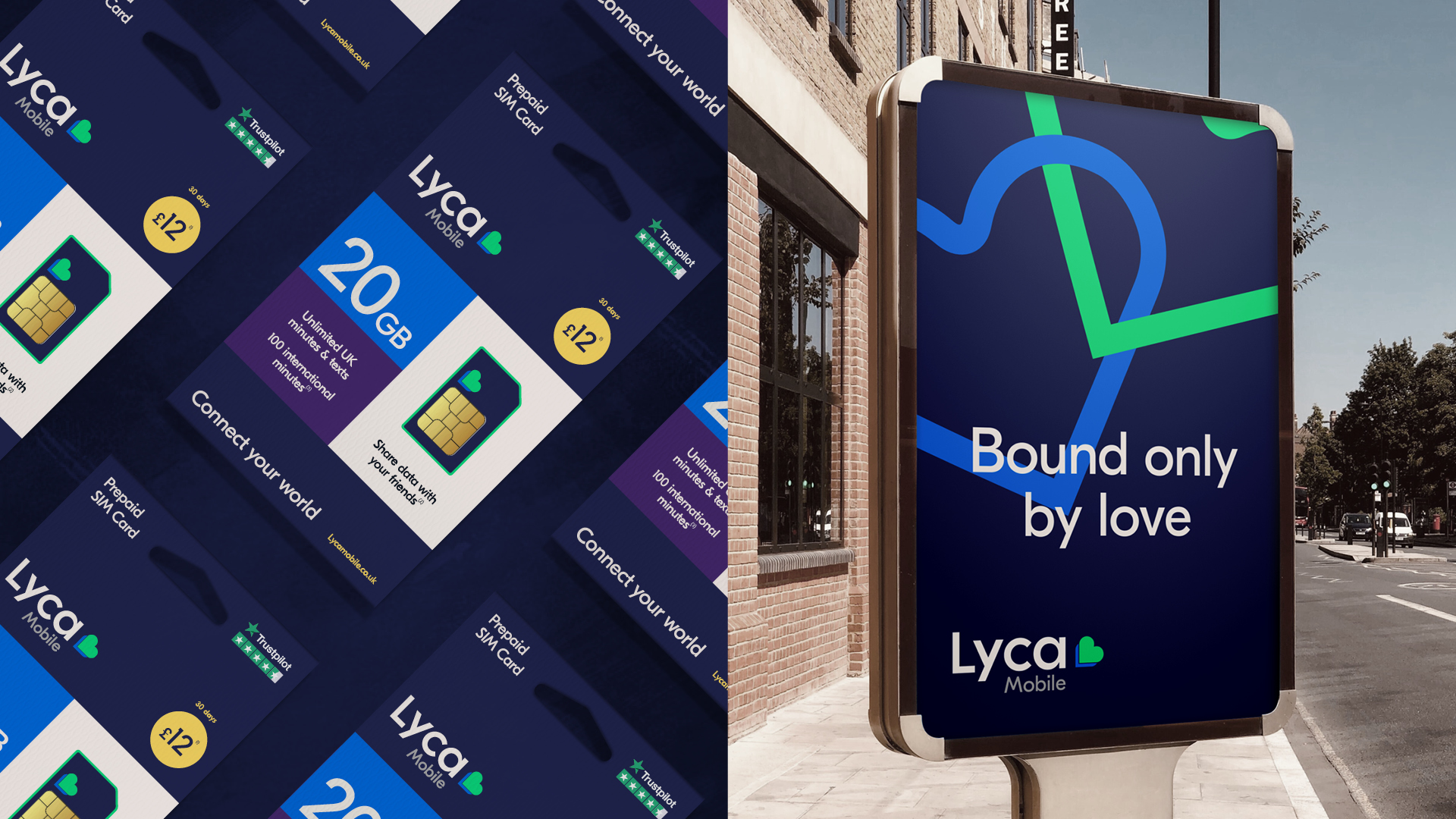 Clear reinvents Lyca Mobile brand
Dramatic new identity brings to life £250m transformation
UK-based Lyca Mobile, the world's largest mobile virtual network operator (MVNO), has launched the first brand refresh in its fifteen-year history. The updated brand positioning is a core part of Lyca Mobile's strategy to reposition itself and offer its great value services to a wider audience.
The power of connection
Designed by Clear M&C Saatchi, the new look brings to life Lyca Mobile's belief in the power and importance of connection. Founded on the recognition that people need low-cost ways to stay in touch with friends, family, and loved ones – wherever they are in the world – Lyca Mobile's heritage is rooted in providing services that keep customers connected to the people they care about the most. This sentiment is recognised in the two hearts central to the rebrand design, which represent the deep sense of connection between loved ones and with the things we love in our lives.
The new branding and design treatment will feature across all of Lyca Mobile and the Lyca Group's touchpoints, from High Street retail branding to online channels. To support the launch, Lyca Mobile is investing over £25m in marketing activity to further energise its business across global markets
Mikah Martin-Cruz, Group Chief Marketing & Digital Officer, said: "Over the past year, we've seen more than ever how important it is to stay connected to our loved ones. That sentiment – the power of connection – is at the heart of the Lyca Mobile brand, and is reflected in our new look and feel. This marks an exciting moment in Lyca Mobile's history, as we continue to grow our market share and invest in delivering exceptional digital services at competitive prices. Our core values, now more than ever, resonate with all consumers across the globe"
Damian Symons, Clear M&C Saatchi CEO, added: "We're really excited to have partnered with Lyca Mobile on the first new brand designs in the company's fifteen-year history. This new look and feel mirrors the major transformation the business is undergoing, including a focus on digital and importantly the development of new products, services, and experiences to offer both new and loyal customers more value and more utility.
But despite all the transformation, one thing remains constant. And that's the brand's mission to connect all of us to our loved ones. This single idea was behind the formation of the Lyca Mobile business and has informed all the thinking around the visual refresh. That's why we have brought the heart motif right into the centre of the new design – a universal signal of love that works across all geographies and represents the idea of connection at the core of the Lyca Mobile brand."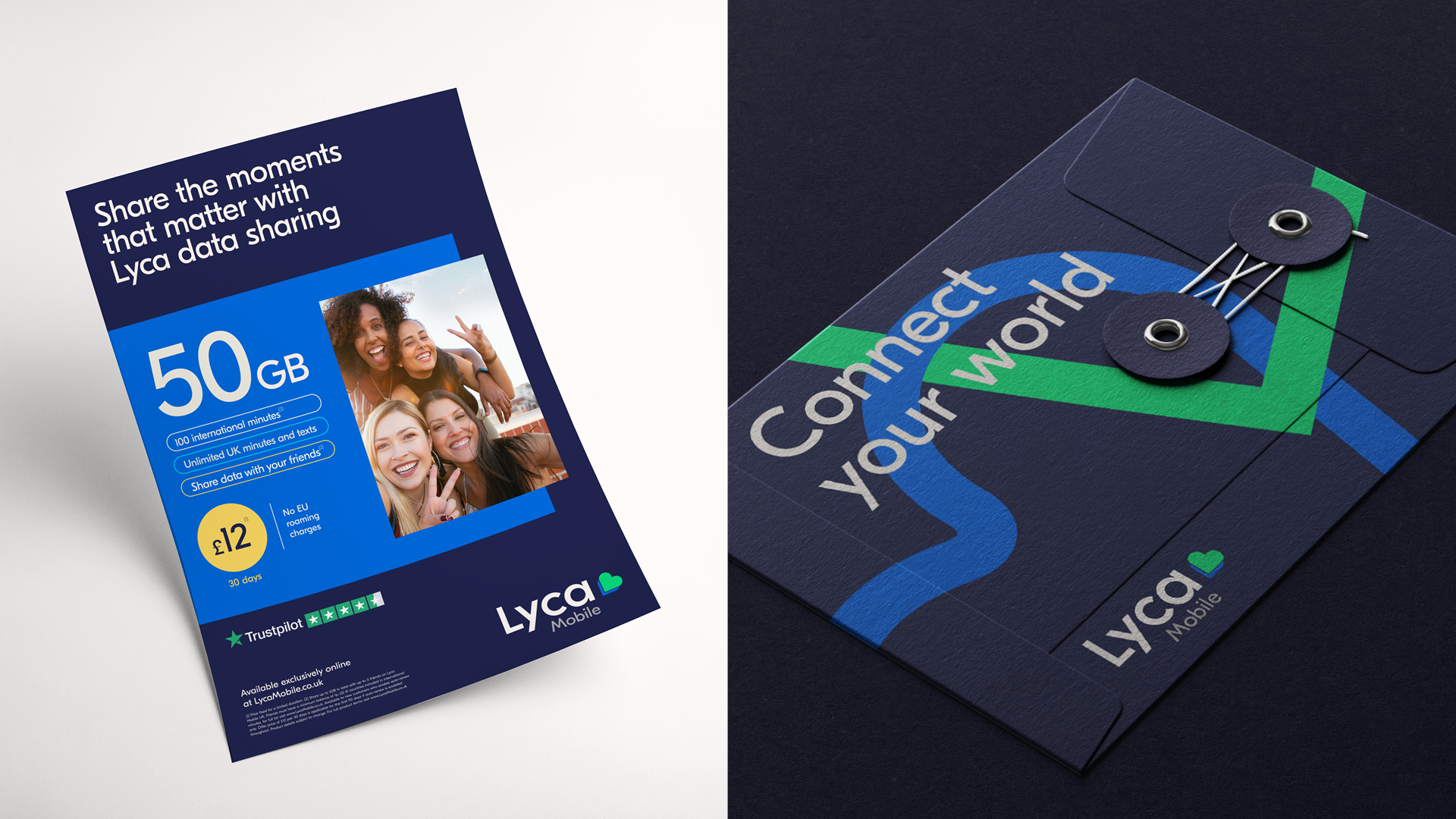 Investing a quarter of a billion pounds in meaningful change
The rebrand is part of a £250m investment by Lyca Mobile over the next three years to reposition the operator for a wider audience. The investment will transform Lyca Mobile beyond its heritage as a low-cost international calling network into a digital service provider delivering diverse, multimedia experiences that put changing consumer expectations first. By developing a new set of differentiated products, content and services, Lyca Mobile aims to appeal to a wider cross-section of mobile subscribers as it targets major growth in the UK and international mobile markets.
The new brand design will be rolled out across international markets, including the US, Australia, Germany, France, Belgium and the Netherlands.
About Us
Clear is a global growth consultancy, part of the M&C Saatchi group. We use clarity to cut through complexity and generate growth.
We work with leading brands to identify how complexity and chaos are limiting their growth, and what needs to be done now and next in order to thrive.
Our capabilities include business, brand, experience, and innovation consulting and we work across multiple industries – including Telecoms, FMCG/CPG, Retail, Apparel, Restaurants, Tech, Financial Services, Law, Automotive, Travel, and Entertainment.
With offices located in five countries, our team is strategically placed to help clients wherever they have challenges to solve.
Follow us on LinkedIn to make sure that you never miss a chance for clarity.